Turn to Turmeric for Skin Care: Tips to make your day
According to Ayurveda, any natural substance which is edible can be applicable your on skin too. Turmeric for Skin Care being a vital condiment of your spice store can help you treat your skin with multiple benefits. From removing dandruff to healing cracked feet, it will tackle your troubles in no time. It's cheap and easily available and can be your one stop for personal care.
So here's a handy guide as to how turmeric can do wonders for you.
1 –  Your skin needs no scars and spots.
Image youtube
Turmeric for Skin Care-Turmeric with it's anti-inflammatory properties works on your pores and soothes the skin. Besides this, it's antiseptic properties keep in check your scarring and heal wounds better. Since, it is a natural substance , it is least likely to cause any side affects until you are allergic to it.
Mix one pinch of turmeric powder with 'besan' or gram flour along with milk. Apply the paste on the required area and leave it for 30-60 mins. Once ,the applied paste dries, wash it with lukewarm water.
2 – Soothe your burn marks.

Image Youtube
The sun is out, bright and beautiful, and the better it gets, the worse for you. Long duration of hours spent under Sun can affect your skin badly and cause burn marks. And though you may try your best to avoid it, you might just have to face it. (Burning truth)
But turmeric has got a solution for this too.
Take a pinch of turmeric powder, mix it with either milk or cooling curd and apply on the affected area. Leave it for 15-25mins.Let the paste dry and then wash it off gently. You can try this 2-3 times a day or week as per your requirement. Do this until the burn mark starts to fade away.
3- Your skin can age later.
Image Google
Turmeric for Skin Care-Yes that's true, age is but a number. You can hide it well with just some powder. Not cosmetics this time, but turmeric. It contains certain pigments which synthesize antioxidants. These antioxidants protect the skin from free radical damage and help to slow down the signs of ageing like dark spots, fine lines and wrinkles.  It won't take you back to your sexy sixteen but you can definitely use it to slow down time and win over ageing. Cause it's not only a age phenomenon these days, ageing is affecting our skin more rapidly due external factors like our pollution filled environment and unhealthy diet.
We can't have complete control over the external factors, but we can surely try to add that humble spice in our routine.
4- Use it to treat your dry skin and cracked heels.
Image Google
After trying  thousands of lotions and spending thousands more, you'll probably visit dermatologists who'll provide you with costly, short term solutions. Instead, switch to this natural substance which will leave you with a soft ,smooth skin.
For this, use turmeric powder mixed with coconut oil as your remedy. Apply this and leave it for 15 mins. Then wash it off. Do this atleast 4 times a week to see good and quick results. You'll see the difference yourself.
5- Stretch marks won't stretch for long.
Image source
Stuck in such a helpless situation hmm? Well, you need not worry. Your skin has got a saviour already. Apply turmeric powder with lime juice on the affected area. Leave it for 15-25 mins. Then wash it off with lukewarm water. Do this until the marks are gone.
6-  Say no to tan this summer.
Image source
The biggest problem of all when it comes to summer issues is tanning. Going out in sun, even for short durations leads to tanning for some. But hey, do you know why there's a 'haldi'  ritual before a marriage? Yes, you've got it right. It provides the perfect remedy for most temporary skin problems including tanning. No matter how worse the tan, turmeric has got it all what it takes to remove that.
Make a paste of 'besan' or gram flour, mashed bananas, 1-2 table spoon of lime juice, half spoon of 'haldi' or turmeric powder, milk and curd. Here's the magic paste you've wished for long. Apply this paste and let it sit for one hour at least. Once it's dry, gently wash it with lukewarm water. Pat dry.
And there you go, no more tan this summer.
7- Exfoliate those dead skin cells away.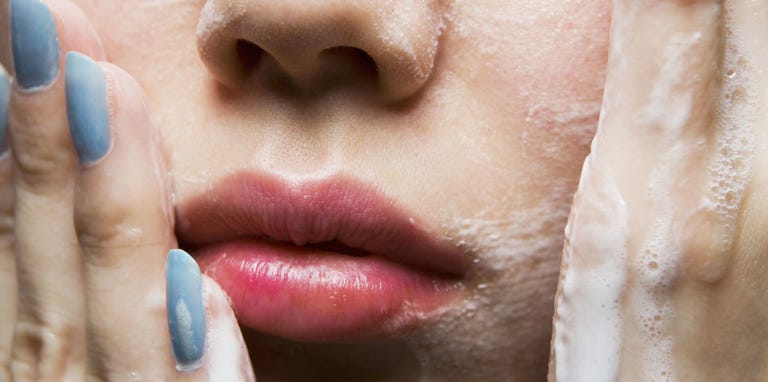 Image source
Don't think it isn't helpful because you can already predict the amount of it in the paste. What people usually forget while exfoliating is the great need to take care of their skin along with the harshness that's being provided. You're not fighting a war with your skin, you're exfoliating it which means to remove the dead skin cells and the excessive oil and dirt that's present on it. You've to remove the already dead ones and not murder the new. A good exfoliating scrub is harsh enough to remove the extra cells and gentle enough to soothe the other while this process is being carried.
Turmeric plays a key role here by providing it's healing properties along with acting as an ingredient to thicken the paste for exfoliation.
Now to do so, make a paste of 'besan' or gram flour, rose water,oats,mashed bananas, 1-2 table spoon of lime juice, half spoon of 'haldi' or turmeric powder, milk and curd. Apply this paste and let it sit for one hour at least. Once it's dry, gently wash it with lukewarm water. Pat dry.
Now this paste is even mightier than the one mention before. As you can make it through the number of ingredients used, it's nearly ready to be served on your plate. But don't back off. The ingredients used are cheap and  are easily available in the market. Besides this, I have something more to add on to this. This can be used not just for exfoliation, but much more. When you'll allow it to sit and dry, it will work on skin whitening too. It wil aid in giving you an even skin tone. And by even, I mean not only the complexion, but also the platform. This paste will help you get rid of acne and pimples and remove the spots of those who had already disturbed you in past.
Sounds like a bonus right? Yes it is. As i said, your one stop for personal care. 🙂